Understanding POI Transitions in Plan
+ How do I regain manual control during a flight?
To immediately regain manual control during any automated flight you simply need to flip modes on the top left of your controller. You can immediately flip back into the mode you were in if you choose too.
+ The app is not connecting to the drone?
Airnest requires an internet connection at least once to register with DJI prior to it being usable. You should receive an in app warning if the registration fails. If you have already opened the app once with an internet connection then try disconnecting the iOS device from the controller and reconnecting it.
+ Uploading the flight plan freezes
This typically only happens to first time users, if this happens to you, simply restart your iOS device. This should not occur again after a restart.
+ How do I use metric?
You can change to the metric setting by dragging down the menu bar across the top and going into "Drone" settings. You will find a metric switch there.
+ Why does the aircraft fly aggressively or choppy sometimes?
Airnest uses many waypoints to achieve the shapes that you are drawing. When you fly at higher speeds(over 12 mph) then the flight controller on your quadcopter has trouble maintaining speed when your flight path has smaller turns. High speed flights are best saved for straighter lines or very large arching movements.
+ How do I properly switch between DJI GO and Airnest?
It is best that you completely close Airnest or DJI GO prior to switching between apps. Here is a short screen capture video of the process.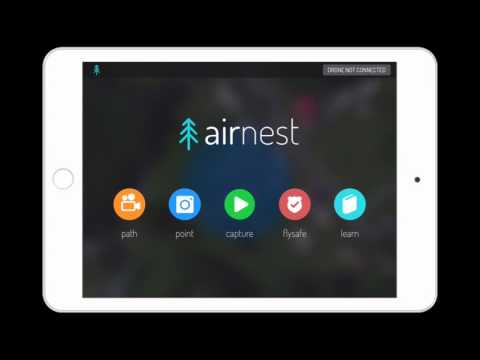 Ask questions to support@airnest.com or use the form below.